Excludes Mach-E, Bronco F-150 Lightning, Aviator and Navigator Check your qualification at: Ford.RecognizesU.com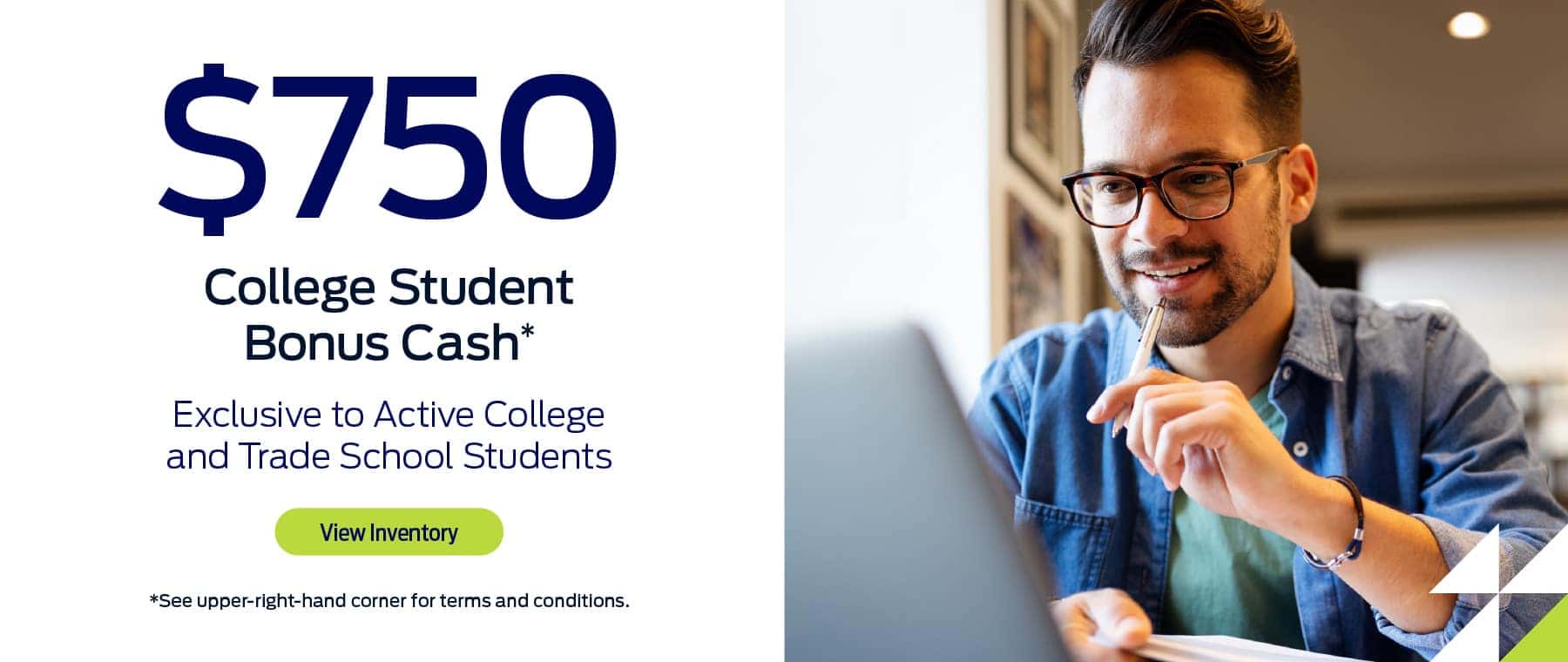 Active College/Trade School Students: Student is enrolled Full-time OR Half-time based on the specifications of an accredited Four-Year College/University, Junior College, Community College, or Trade School that the student is attending. Active Graduate Students: Student is currently enrolled based on the specifications of an accredited Graduate School program. Recent College Graduates: Student has graduated and is within 2 years from their date of graduation. High School Seniors or Recent High School Graduates with a letter of intent to attend a qualifying university: Student must have completed all requirements for graduation to qualify using an anticipated or future graduation date, and have can provide Letter of Intent to attend a qualified university. Expiration: 2024-01-01 See dealership for full details.

100% Online Experience
Shop
Morrie's Expressway
Instant Pricing - No Hassle - Build Your Deal Online
Take Advantage of This Month's Current Offers

Ford Blue Advantage: Confidence at Every Turn
Experience the benefits of Ford Blue Advantage! Each Ford Blue Advantage vehicle features a limited warranty, multi-point inspection, 24/7 roadside assistance, and FordPass™ Rewards Points.
We're Here For You
Morrie's Grand Ledge Ford always puts customers first!
Don't take our word for it: Read our reviews and see what everyone is saying.
Everyone was helpful and friendly. They returned calls and answered questions promptly. Rob was a great salesperson.
Two thumbs up to happier staff of the new Morrie's Grand Ledge Ford. A special call out to my salesmen Rob, who once again in 11 years, and from two different dealerships, and despite the economy, got the truck I wanted, with all the discounts he could find, and lowest interest around. My brother-in-law who just got a new Bronco, said kudos to the staff.
The staff at Morris's Grand Ledge Ford made my purchase smooth and easy. I would recommend My salesman, Rob, to anyone looking to buy a new Ford.
We recently had a complete engine replacement on our 2018 Ford Edge (under warranty). Working with Kory Hoskins in Service, a new engine and other needed parts was obtained and installed in one week. Can't be more happy.
Grand Ledge Ford provided an effortless experience from searching through their inventory and there was no limit to how many I checked out, which resulted in me purchasing a vehicle that I love! Rob was highly recommended to me by 4 of my friends and he did not disappoint. I know I can call him anytime if I need help. His interest in my experience did not end when I walked out the door. Jim made the financing process painless and made a great effort to get the best rate! I would highly recommend Grand Ledge Ford and will do business with them again in the future.
I have been a customer of GLF for 10 years and have always been satisfied and here's a great example why. Recently I needed some bodywork done to the front end of my Wife's Explorer (deer hit). When I picked up the car I did notice a few things that weren't 100% right but life's not always perfect. When I talked with Ladd and Tim the Service Manager they both agreed and immediately took the car back into the shop without hesitation...I did not even has to ask! When I came back a few days later the car was flawless (thank you guys). We all encounter problems from time to time but its how you decide to handle them that really matters. Their customer service and support is simply awesome and that's why I'm a GLF customer for life. Regards, David Schuen
David Parmer and the team provided fantastic customer service with no pressure and no hidden costs. This was absolutely the best vehicle buying experience we have ever had!
I recently purchased a Certified Pre-Owned Ford from another dealership a little over an hour away. I found out later in the evening on the day of purchase that there were some issues that were not identified during the CPO inspection of the vehicle. Instead of taking it back to the original dealership, I scheduled service with GL Ford. Jason B. called me promptly upon diagnosis of the problem and also identified another item in need of repair. He was professional, courteous, and thorough in his explanation of the issues and plan for repair (luckily under warranty). He provided a general window for completion and had the vehicle ready on time. My initial experience with GL Ford has been outstanding. So far the quality of repairs is top-notch and I highly recommend you bring your business to GL Ford.
My husband and I just bought our Lincoln MKX from Nate and had the best experience! He was very friendly, helpful and knowledgeable about all the vehicles we test drove. He made us feel comfortable and not rushed in making a decision. We are so happy with our purchase and excited for future purchases! Highly recommend Nate and the overall team here at Grand Ledge Ford Lincoln!
I have bought a number of cars from Grand Ledge Ford over the years and been very satisfied with the sales people I've worked with. Rob Beckwith is no exception, I have purchased three vehicles from Rob and enjoyed working with him. The vehicle I wanted this time was not available on site. So Rob searched for one. He quickly found what I wanted less the leather seats. No Problem. Two days later, Rob had the leather pattern I wanted perfectly installed for me. It looks great. In addition, Rob is a cheerful, upbeat person, enjoyable to talk with, as well as not a pushy salesman. Over the years, I have also had very good results from the Grand Ledge Service Departments as well.
Rob has once again provided the greatest service possible. This is my third vehicle; I was a little anxious as I purchased this time the other two times I leased. Payments a little higher but Rob and Laura worked with me. Rob especially was very patient and found the car that had most of the features I was looking for. Went on the highway home, Love, just love Ruby, my new Ford Escape!!!!
I have always had great service experience and just bought my 2nd brand new F150 from Grand Ledge Ford. Rob Beckwith worked tirelessly to find what I was looking for and we were finally successful at acquiring exactly what I wanted! Jim Himebaugh also made the financing experience as simple as possible and found me a great rate! I won't go anywhere else for service or purchasing.
I had an amazing experience with Grand Ledge Ford. My saleman, Ben Croze, is absolutely the best! This is my second vehicle from him and I never want to deal with anyone else. He is a professional, kind, and patient and answers all of my questions with no pressure what-so-ever. I love my new Ford Edge! Thank you again Ben! Julie Poe
The folks at Grand Ledge Ford are so easy to work with. No high pressure and very professional. I was recommended here by a friend, and will definitely recommend them in the future!
Thanks to Rob Beckwith I had all my questions answered, Very knowledgeable and easy to work with, He made purchasing a vehicle easy & comfortable experience.
I recently acquired a Ford vehicle and only had one key. I called Grand Ledge Ford and was easily assisted in having a new key made at a reasonable price the same day.
I purchased my first car today. They made it so easy, painless and got me an awesome deal! Big thanks to Rob, Josh, and Jim!
Nate DeHaan answered all our guestions and made the process enjoyable with his no pressure sales approach. Also, Jim Himebaugh made the paperwork transaction very efficient and easy.
My friend Tom Sullenberger recommended GL Ford to me a year ago, particularly Rob Beckwith and I finally made my way up there. Rob spent so much time with me and between him, his sales manager, finance gal,and I believe owner, they put together such a fantastic deal and financing even I could afford on my retirement, that I could not pass up. For the first time in my life (65 years!) I have an actual deal that I am not upside down on, don't have to have gap insurance (lol) and it truly fits my needs. I feel they all looked out for my interest as opposed to making a sale and that really meant alot to me. If I live long enough, they have a client for life and I will shout their praises to anyone I know looking for a new or used vehicle! Thank you again, in particular, Rob Beckwith . God Bless!
I have recently purchased a Lincoln MKX and I love it. I had a list of what I wanted in a car and Lindsay, the sales consultant checked all the boxes. She was awesome and the whole team at Grand Ledge Ford was friendly and helpful. There was no pressure sales which I appreciated. I also felt they were honestly there to help you find the perfect car for your needs and within your price range. I have had the best experience with Grand Ledge Ford and I will never go to any other car dealership in the area.
It began with a great sales transaction initiated by Rob Beckwith and Ben Croze with paperwork efficiently processed by Jim Himebaugh. I have to mention that this is consistent with my experience since G.L.Ford first opened their doors. More cars than I can count for my wife and I and the kids and grand kids. But, occasionally even a new car needs a little follow through by service. The true test of a dealership is not when everything goes right but when something needs attention. G.L. Ford has always exceeded my expectations over the years with regard to service. This time they raised the bar to a level I have never seen nor could ever have expected with regard to diagnosing the issue and correcting it with a 24 hour turnaround. My service advisor was Mitch Dorin and I wish I knew the names of those working behind the scene turning the wrenches. Keep it up Grand Ledge Ford!!!!
Bought a 2012 Ford Fusion from Ben Croze 7 years ago and returned to dealership for a Ford Edge. Process was efficient as Ben had found the car we were looking for and Rob Beckwith was there to assist us in our purchase with patience. Both salesmen had been very knowledgeable about their product and process. The Service Department has treated us well with the Fusion and we will continue using their service with our new Edge.
Went from a total loss to "Yes, We can fix it". Tim and Dan said "Don't worry, looks brand new". Thank you very much!
I bought a used car through Rob Beckwith. He was great at helping me with figuring out exactly what I needed. He listened to my wish list and didn't try at all to over-sell me. I never felt any pressure to get anything I didn't want. He is very knowledgeable, kind and answered all of my questions. I will refer my family and friends to him
I purchased my truck from Ben Croze. Ben is a knowledgeable and no-pressure person who made the process enjoyable. It was such a positive experience my wife, "a Chevy Girl", purchased a Ford Escape from Ben.

Welcome to Morrie's Grand Ledge Ford
Morrie's Grand Ledge Ford: Premier Among Car Dealerships
As a leading Grand Ledge Ford dealership, creating a positive dealership experience for you is our very top priority. We strive to create an environment that's welcoming, hassle-free, and professional for all drivers. What's more, we're committed to providing the best automotive experience possible at our Ford dealership near Lansing, MI. Whether you're looking for new or used vehicles, have any questions about servicing your current model, or need to explore your financing options, you'll be able to find everything you need at Morrie's Grand Ledge Ford. Hopefully, we'll be your go-to Ford dealer in Michigan for all of your car-buying needs.
New & Used Cars at Amazing Prices
If you're searching for your next Potterville daily driver, you can count on our Ford dealership's vast selection of new Ford vehicles in a variety of trims and colors, as well as our inventory of pre-owned models. Whether you're on the hunt for a quality new Ford SUV at Grand Ledge dealerships like ours or looking specifically for a commuter car that can help you save on gas expenses, we've got the most popular new Ford models in stock for your convenience and easy shopping experience. Whatever you're looking for, be sure to use our new and used vehicle specials to see how much you can save.
We also feature certified pre-owned options for something that has like-new quality at a lower price than brand-new. If you're looking for something that can help you save on fuel costs and get the most out of every drive, then take a look at our hybrid/EV options when you visit us.
Finance or Lease at Morrie's Grand Ledge Ford
As a Grand Ledge dealership that wants the best for its customers, Morrie's Grand Ledge Ford is proud to say that the experts at our finance department are more than happy to share their expertise in car leases and loans to arrange the best rates and monthly payments possible. Whether you have a question about how much to put down or are looking for guidance on leasing vs. buying, we can help. What's more, we leverage our relationships with local Charlotte-area lenders for your good, ensuring that you have access to affordable car lease and loan rates at all times, regardless of your credit! Apply for financing online now, and you'll see just what we mean.
Service Your Ford With Us
Our certified Ford service center has the diagnostic equipment and trained technicians necessary to get every repair and maintenance job done right the first time. What's more, we use only authentic Ford parts to keep your vehicle running as it was intended to run on the Portland roads. We offer express service on many common maintenance tasks as well as service specials to help you save, but for those services that require advanced scheduling, we make the process easy by letting you book service online!
We help you service Ford vehicles and non-Ford vehicles as well. In fact, we also service hybrid vehicles and EVs. So, no matter what you drive, you'll be able to keep it running at its best when you get it serviced at Morrie's Grand Ledge Ford. Take advantage of our service and parts specials to make maintenance and service for your vehicle as affordable as possible.
Let Us Be Your Ford Dealer in Michigan!
At Morrie's Grand Ledge Ford, we're committed to maintaining a reputation that sets us apart from other Ford dealerships near Lansing, MI. That means keeping the car buying, selling, and servicing fun, honest, affordable, and informative every step of the way. If you have any questions, don't hesitate to contact us at our Grand Ledge Ford dealership today.
Contact Us
Get Directions
6080 East Saginaw Hwy.
Grand Ledge, MI 48837
517-412-2546
Directions

Welcome to Morrie's Grand Ledge Ford
Morrie's Grand Ledge Ford: Premier Among Car Dealerships
New Vehicles for Sale at Our Ford Dealer in MI
Finance with Morrie's Grand Ledge Ford
Service Your Ford With Us
Contact or Visit Us Today!
Contact Us